Why To Participate
22nd World Education Summit 2021 School Education
After the incredible participation of stakeholders and success of our recent virtual show, the 19th World Education Summit 2021 School Education in June, we are thrilled to announce that Elets's Digital Learning Magazine is once again gearing up to organise a three-day event the '22nd World Education Summit 2021 School Education' to be held in November, 2021.
This highly interactive event will be taking place on 17th to 18th December, 2021 bringing together eminent guests and stakeholders of the educational sector in one platform and delivering expert knowledge about transforming the education industry.
After the COVID 19 pandemic hit us, there has been a rapid adoption of technology and the online learning process picked up momentum. Over the past few months, it has been challenging times for learners, staff and educators. However, industry stalwarts are trying to explore best practices and solutions that can transform the education sector.
The summit will be a platform where the attendees will have a chance to learn about the changing best practices, will get policy updates, find appropriate solutions and become aware of the latest technical know-how. 'Techies', Teachers, Staff and Leaders will exchange and share knowledge to build the future of the education industry.
Delegate Registration
Key Participants
Chairpersons & CEOs of Group of Schools
International School Experts
Policymakers from the Government
Key Officials from Central & State Examination Boards
Key Officials from Regulatory Bodies
Ed-Tech & start-ups
Register Now
Our Partners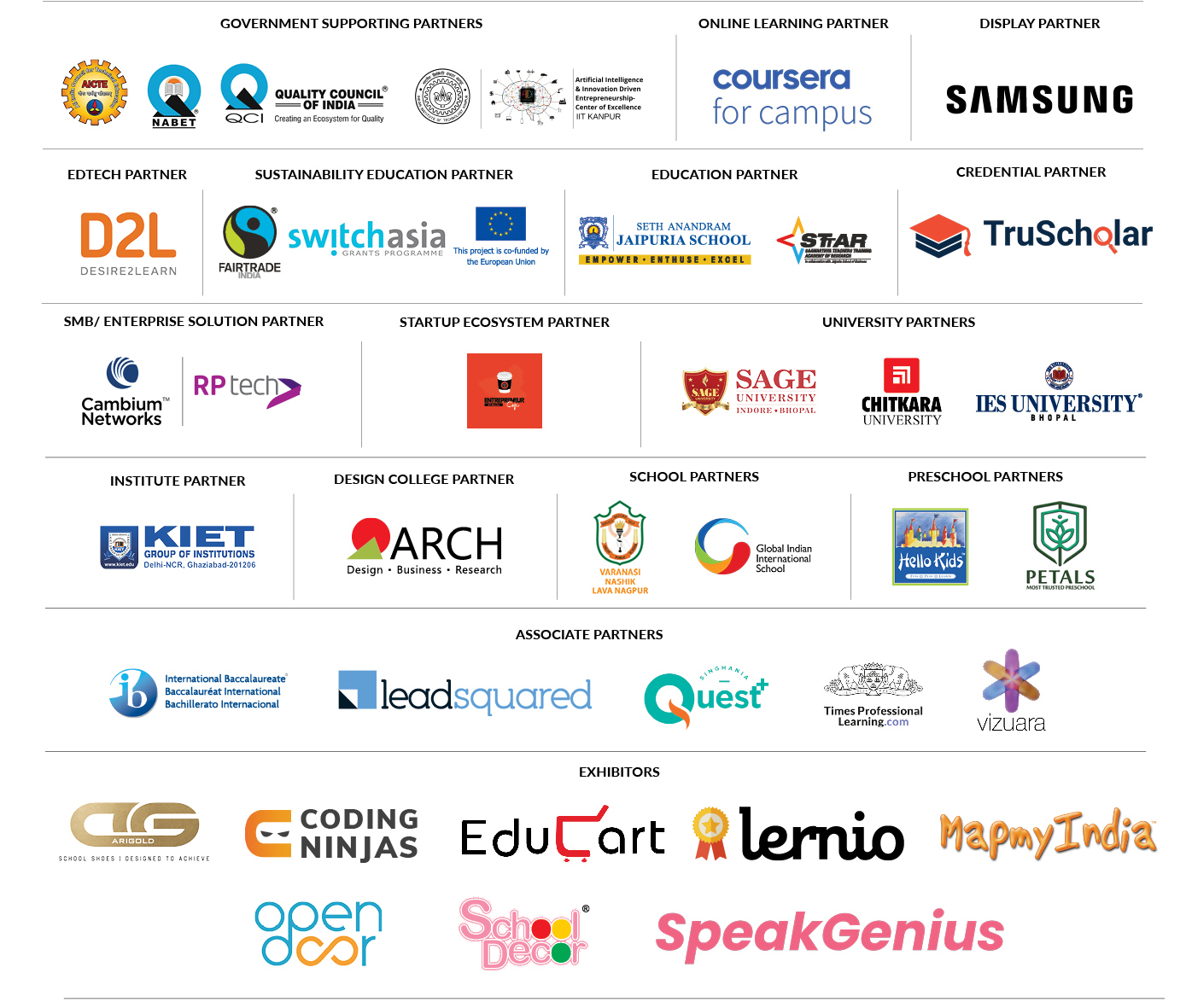 Galaxy
Galaxy Of Luminaries
Government officials
Policy makers
Think Tanks
School Education Leaders
Influencers
Patrons
Corporates
Industry
representatives
International Organizations
& Associations,
Embassies
Points
National Education Policy 2020: Making it more Learner Centric
Impact of Technology in Education GenZ: Global Perspective
Digital Education: The Learning Outcomes amid the pandemic and Future Scope of e-learning
Role of Early Childhood Educators in Developing a healthier, Safer & Hygienic Learning
Importance of Choosing Right Tools and Learning Management System to improve quality of learning in Schools
Digital Education: The Learning Outcomes amid the pandemic and Future Scope of e-learning
Significant Focus on Reskilling and Upskilling: Empowering students to acquire new skills set
Exploring the Future Paradigm of Learning in Globally Acclaimed Schools
The Importance of Critical Thinking and Analysis in Academic Studies in India
Glimpses









Past Partners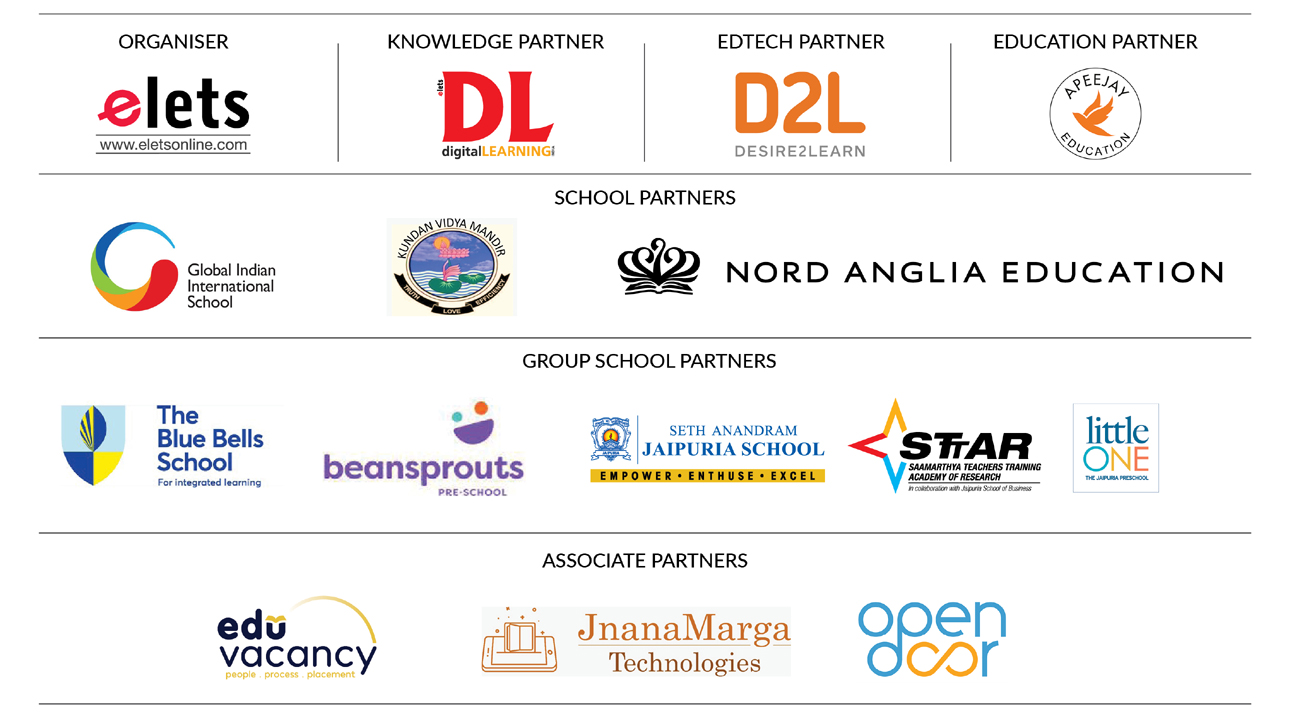 100+
International
Experts
25+
Government
Dignitaries
20+
Knowledgeable
Sessions
testimonials
Trusted Testimonials by Education Stalwarts
Extremely thankful to you for your commendable coordination, promptness and patience. Looking forward to a mutually beneficial alliance as well.

Anjum Babukhan, Glendale Academy
On behalf of ITM GLOBAL SCHOOL, I take this opportunity to express my gratitude for conferring the prestigious award to our institution. I would also like to thank you for your professional coordination in the matter and for the promptness of your kind response.

Dr. Sujash Bhattacharya, ITM Global School, Gwalior
I am very happy to be a part of 18th World Education Summit & Awards. It's a unique platform for stakeholders to showcase their innovations and initiatives

Charu Noheria, Co-Founder and Chief Operating Officer, Practically
The 18th World Education Summit & Awards is one of the premium platforms which have given immense scope to educators to unlearn and relearn. During the COVID-19 crisis, the platform continued its legacy with grace

Anirudh Gupta, CEO, DCM Group of Schools
The 18th World Education Summit is one of pioneers in education sector. The platform has always dedicated to innovations and creative actions in the education sector.

Chandrashekhar DP, CEO, Jain Group of Schools
The World Education Summit deliberates the much advancement in education and bring the Brainstorming sessions turning the crisis into opportunity. The digital summit is having a deep impact on the education stakeholders.

Tanuja Gomes, Co- CEO and Co- Founder, Furtados School of Music
Magazines










FOR SCHOOL EDUCATION PARTNERSHIP
SUMIT RAWAT
+91-9205686300

FOR CORPORATES PARTNERSHIP
ASHUTOSH KUMAR DUBEY
+91-9650101649
KRISHNA KUMAR SINGH
+91-9205793223