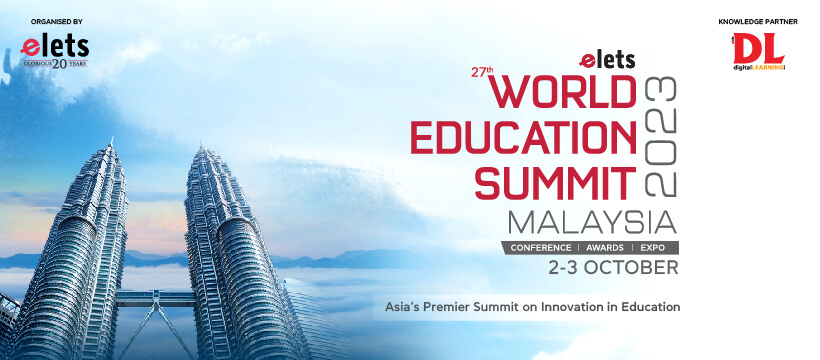 Aiming to strengthen school education, World Education Summit is all set to make an undeniable impact in Malaysia
By sheebachauhan
Are you planning to strengthen your position globally as an education provider? Are you looking for innovative ideas to revamp your school's teaching methodologies? If innovation is your go to move and adapting to dynamic changes in the educational ecosystem is your go to approach – It's time to explore the unexplored. Southeast Asia is the budding education marketand is expected to show an annual growth rate (CAGR 2022-2027) of 10.26%, resulting in a projected market volume of US$63.21m by 2027. They are implementing some of the innovative methodologies to enhance the quality of education in the region. For instance, an initiative by the Singapore government called FutureSchools@Singapore is providing high-end technology and digital content to schools. Not just this, they have a lot of to offer.
To discover the enormous possibilities and opportunities, 27th Elets World Education Summit (WES) is going to happen in Malaysia on 2-3 October 2023. Let's make the best use of wonderful opportunities and engage with top school education leaders on Asia's premier education summit, offering you a global setup to discover, connect and thrive beyond borders.
Why Southeast Asia?
In the dynamic backdrop of Southeast Asia, renowned for its extraordinary variety, a vast population exceeding 12 million students are actively engaged in their educational pursuits. This region boasts a mosaic of cultures and economic panoramas, creating a truly vibrant tapestry. The region has seen a steep inclination of development in education sector aided by government support. For instance, The Malaysian government launched an online learning portal called Malaysia Education Online (MEdO) with the aim of delivering a significant portion of courses online. Thus, these factors are expected to drive growth of the ASEAN Smart Education and Learning market in the near future.
To unveil the recent happenings in a more transparent way, 27th WES will ignite the change to transform education ecosystem across the world. The summit will have dedicated tracks and in its school education track, we will gather some of the leading schools from the globe to ideate, innovate and enhance the quality of education.
What We Have For You?
Exposure to Innovations in Education: WES Malaysia gathers 300+ renowned educational leaders and 25+ edtech companies, providing an excellent opportunity for schools to learn about the latest innovations.
Access to Educational Resources: Hosts a diverse range of exhibitors, including educational content providers and resource companies.
Cultivate a Global Mindset: Engaging with international participants and diverse perspectives at the summit can help schools cultivate a global mindset.
Showcase Expertise: Participating schools have the opportunity to showcase their own achievements, innovations, and best practices during the summit.
Understanding Global Education Trends: Schools can gain a deeper understanding of the broader educational landscape and how they can adapt and thrive in a rapidly changing world.
Motivation and Renewed Purpose: It can renew the school's sense of purpose, commitment to excellence, and dedication to providing the best possible education for its students.
The 27th Elets World Education Summit to be held in Malaysia serves as a pivotal entry point to unlock a realm of possibilities within the ever-evolving education sector of Southeast Asia. Knowledge knows no borders and its time to expand your horizons a world of learning awaits you at the 27th Elets World Education Summit.
To know more about the summit, visit: wes.eletsonline.com