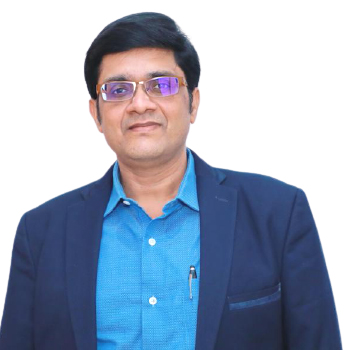 Dr. Sendil Kumar hails from the famous temple town of Kanchipuram near Chennai and brings a wealth of academic and professional experience spanning across more than 19 years. Having started his professional life as a Senior Lecturer in Ragas Dental College and Hospital, Chennai in 2002.Afterwhich, he worked briefly with the Apollo Hospitals Group holding the portfolios of Manager-Operations and Deputy Director-Academics from 2003 to 2008.
In November 2008 he joined the Vinayaka Missions Research foundation, Salem and is currently the Dean of Allied Health Sciences. During his meritorious tenure he has administered about 20 courses such as Radiography, Optometry, Cardiac Technology to name a few, in Medical colleges in Karikal, Puducherry and Salem and with his hard work and dedication he has also spearheaded postgraduate courses in Family Medicine & Emergency Medicine accredited with Royal College of General practitioners(UK).
He is a also Board Member of the  Vinayaka Missions group and functions as Chairman -board of studies, Allied Health Sciences as well as the Missions' Chief Executive, International Affairs in collaboration with African & European Universities apart from his other Directorial responsibilities with the Mission.
Since July 2018, He has been serving as Head, Transformation for the Vinayaka Mission Hospital,Salem, and additional responsibility, overseeing its overall operations and is also responsible for ensuring that the hospital's quality of service, efficiency, customer satisfaction is at its highest at all times.
Academically Dr Sendil holds a degree BDS,MPH,MBA,M.Phil,PhD,D.Litt in addition to MDP in Hospital Management, Data Analysis in Healthcare and Clinical Laboratory Management all from IIM Ahemedabad.
His hard work and dedication has certainly paid dividend with the numerous certifications he has received, the most notable being the SIX Sigma Green Belt international Certification by RABQSA, which is got in 2011.
Dr Sendil has conducted many CME conferences across India and was the Chief Guest at the International Health Day celebrations. His hard work doesn't stop here, he has endlessly conducted various CSR activities related to healthcare across the country and has been invited to speak on numerous occasions at various summits in places(National & International)such Mumbai, Delhi, Hyderabad,Bangalore , Dubai & Finland.
His hard work and dedication to his profession has won him many accolades in the field of education. He has won awards for Excellence in students counselling and student placements and Exemplary leader in Internationalization of Indian Education in Finland and also received "100 Most impactful healthcare leaders in the World" at World Health Congress at Mumbai.
In a nutshell we can say with such wealth of experience that Dr Sendil is a man of many missions whom colleagues hold in very high esteem.