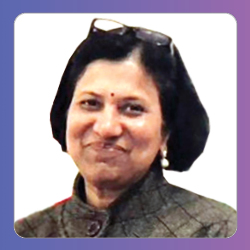 Dr. Preeti Bajaj Vice Chancellor Galgotias University, Greater Noida is Ph.D in Electronics Engineering with MBA. Having 30 years of rich administrative, academic and research experience. She has achieved many of the milestones in NAAC A+, NIRF Rankings, 30 Crores plus grants viz: DST-NIDHI-TBI, AICTE-Magradarshan, UGC-Paramarsh, World Bank-TEQIP-I & II, ARIIA ranking, Indian Patent Rankings during her leadership roles in various academic institutions. She is tech lady, giving thrust to innovations and entrepreneurship at Galgotias University. She is an active IEEE volunteer for more than 20 years and has executed many leadership roles of IEEE in India and abroad. She is currently Chair-Education Activities Committee IEEE Region10 – Asia Pacific, Member-Section Education Outreach Committee (SEOC) – Education Activity Board of IEEE, USA.
Her expertise is in Computational Intelligence to Intelligent Transportation System, agriculture, Education data Mining and Healthcare. Her professional society affiliation includes Fellow- Institute of Engineers, Fellow IETE, Senior Member- IEEE.
She has served on various Governing bodies including General Council of National Board of Accreditations New Delhi, BOG of IEEE HKN USA, BOG Of many Academic Institutions, BOG of Vocational board of Maharashtra. She is currently, member of NEP steering committee of UP state Government. She is passionate about Outcome Based Education and accreditations and have trained more than 1000 faculties PAN India. 11 have completed Ph.D. under her supervision and she is Ph.D. examiners to many universities She has coauthored three book chapters and co-inventor for 3 patents, 150 plus publications having citations 1000 plus. She is recipient of Lifetime Achievement Award by IEEE India Council 2020 for subsection, Best Teacher award, "Bhaskar Woman's Award" and "Faculty of Month" and FICCI Road Safety awards.
Under her leadership, Galgotias University has achieved E-Learning Excellence for Academic Digitisation by QS I-Gauge E-Lead Certification for Excellence in Online Learning – 2020, NIRF Ranking in the band 151-200 among the universities in India, and ranked 76-100 in NIRF ranking among all Pharmacy Colleges in India, secured 3rd Position for uploading maximum E-Contents on Uttar Pradesh Higher Education Portal among the all 70 plus Universities in Uttar Pradesh.
Strong belief in innovations, she is putting all efforts for creating an ecosystem for innovations, entrepreneurship and research at Galgotias University to transform private university to world-class University.