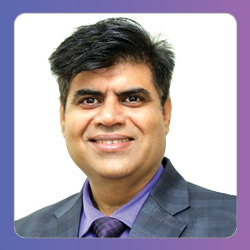 Dr. Vikas Dhawan is a seasoned Academician and Administrator in the field of Higher education having more than 22 years of rich experience. He has more than 12 years of administrative experience in the capacity of Principal, Additional Director, Director & Director Principal in various Institutes of repute.
He received his B.E. degree from Chottu Ram State College of Engineering, Haryana in 1998, M.Tech Degree in Industrial Engineering from Guru Nanak Dev Engineering College, Ludhiana, and Ph.D. Degree from Punjab Technical University in Mechanical Engineering in 2013. He started his career as Maintenance Engineer in June 1998 and his career in Education in February 1999.
His main area of Research is Development; Machining & Testing of Fiber-reinforced Composites and has guided two Ph.D. students in the field of biodegradable composites. He has also worked in the field of application of Soft Computing techniques in the field of Mechanical Engineering. He has filed 5 patents and has more than 40 research publications in International and National Journals and Conferences of repute. He has organized many conferences, seminars, FDPs & workshops and has chaired sessions in International & National conferences. He has established many labs, Incubation center and centers of excellence in the field of Mechanical Engineering. He is also trained in the field of Pneumatics by SMC, India and in the field of Entrepreneurship by DST & NIESBUD. He has keen interest in use of Technology and Innovation in Teaching and implementation of New Education Policy (2020). He likes to lead from the front and is skilled in Team building, Asset Management, resource allocation and FOOP control and strongly believes in meeting targets in fixed time intervals.
Being a skillful and experienced academician in the field of teaching and administration SGT University is ready to have another inning of guidance and supervision of Dr. Vikas Dhawan.