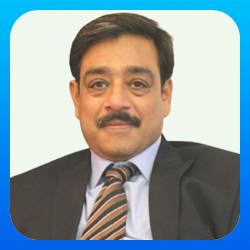 Dr. Vivek Kumar is Masters in the field of Computer Engineering from BITS, Pilani and Doctorate in Engineering (Artificial Intelligence) from Faculty of Engineering, Dayalbagh Educational Institute, Deemed University, Agra in 2002. Before joining Quantum University as VC, he was Director-Principal of Delhi College of Technology and Management Delhi-NCR for about nine years. Under his noble leadership, Delhi College of Technology and Management became one of the best institutes of Faridabad Region-Delhi NCR.
He started his career as a software engineer at Hexaware Limited. He has served SIT Mathura as Dean Academic. Dr. Kumar has worked in Lovely Institute of Technology, Jalandhar as Head of CSE and IT Department where he developed his department regional center of Punjab Technical University for M.Tech. Programme. He has served Galgotias College Engineering and Technology as "Professor" and Head of Information Technology and MCA Departments for eight years. During his tenure at Galgotias, he initiated industrial tie-ups with IBM, Infosys, and TCS and played a major inning in placing Galgotias to the national platform. He has guided several universities and colleges as NBA and UGC Accreditation expert.
As a professor, he has taught Neural Networks, Fuzzy Logic, Artificial Intelligence, Distributed Systems, Digital Image Processing and Theoretical Computer Science to M.Tech. & B.Tech. level for more than two & half decades. He is currently doing research in the diversified field of Soft-computing techniques like Bioinformatics, Computer Networks, Software Engineering, Management, Human Cognitive Behaviour, Transport Engineering, Total Quality Management, Internet management and Computer Graphics.
Prof. Kumar is a Senior member of IEEE, ACM, CSI International Association of Engineers, USA and is a member of the board of studies of many reputed institutes and industry. He has developed many intelligent and expert systems as a part of his research contribution. Prof. Kumar has guided more than 48 M.Tech. level projects. He has supervised eight Ph.D. in the field of aspect-oriented designs, Bioinformatics, wireless systems, web semantics, and services. Presently 6 Ph.Ds are being supervised under his guidance in MDU and YMCA university on cloud computing and cancer research.