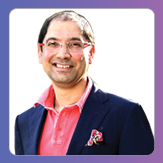 Atul Khosla is the Founder and Vice Chancellor at Shoolini University. Atul drives new initiatives at Shoolini – initiating partnerships with industry and top global universities, starting new innovative academic programmes, transforming a traditional system to new methodologies of pedagogy, initiating a skills-based curriculum and building one of India's most dynamic and cutting-edge education technology platforms.
Having led multiple new initiatives, he founded Everest Group's businesses in India and Asia in 2003-2006. Ssubsequently, he moved to Switzerland where he helped build a-connect ag. into a global consulting business. In India, Atul founded Oliver Wyman's India business. He has recently co-founded AADDOO – an edutech start-up based out of Chandigarh, India.
In addition, Atul continues to advise several Indian and global organisations on issues of strategy, operations and innovation. He has been Independent Director with Gabriel India, Director with Innohive (a social incubator), Senior Advisor to Ankur Capital (India's leading social VC fund), advisor to SEBI Chairman (India's Security Regulator), and advisor to Global management of Swiss Re, among others.
Atul started his career with McKinsey and Co. and in his 25 years as a consultant, he advised clients in India, Asia, North America, Europe and Australia. Atul was also advisor to MMC's Global Board on building the company's global operating platform. In addition, Atul led Oliver Wyman's initiative to build a global "Risk Advisory and Operations" business in JV with a global outsourcing major.
Atul is the Dean of 'Faculty of Management Sciences & Liberal Arts at Shoolini University and he teaches Finance and Strategy. He is also a guest and visiting faculty at several Indian and Global Universities.
Atul is a B.Tech from the IIT Kanpur and MBA from JBIMS, Mumbai.