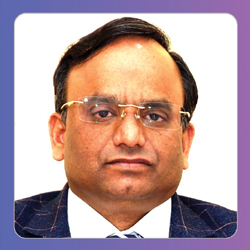 Presently, Prof. Yadav is Vice Chancellor of MATS University, Raipur CG and also Margadarshak of All India Council for Technical Education AICTE (Govt. of India): NWR, Rajasthan Technical University Kota, Hindi Sahitya Bharati for Rajasthan State, Advisor/Directorship to Kingdom Life Christian University Inc. South Carolina, USA, Member Executive Council, Integral University Lucknow, and Chair Professor of Medical Image Processing Center of Excellence and Member National Advisory Committee: NCET Bengaluru .
Prof. Yadav has proven academic and administrative leadership in higher education and is experienced in the establishment and growth of multi-discipline Universities & Institutions. He is a one of distinguished India's Top Higher Education Expert and has a deep understanding of current issues and future directions in higher education.
Prof. Yadav lays strong emphasis on academic excellence; strategic academic planning & Implementation, policy development, budgeting; cost effectiveness, academic personnel administration and effective student learning outcomes in higher education settings.
His expertise is in accreditations, innovative teaching-learning methodologies, outcome-based education, curricula development, industry integration, project/experimental based learning, design thinking, and future skills, gap identification, tying up with national / international institutions, etc.
He is an institution builder and management thinker who likes to spread technical, vocational and skill education to make Indian youth not only employable but also job-provider.
He has 25+ years of experience in teaching, research, administration and industry. Prof. Yadav was Director for 8 years in different institutes at NCR Delhi and Vice Chancellor of Sangam University, Bhilwara, Rajasthan. His expertise is NAAC/NBA/ABET/NIRF/ICAR/BCI/QS Star like accreditation and ranking systems & Impaneled in UPSC/ICAR/BPSC/ASRB, etc.
He has written 17 books in Computer / Electronics Engineering/Environment area for B. Tech. / M. Tech. students. He has published/presented more than 140 research papers in International Journals and Conferences and supervised 11 Ph.D., 2 Post Doctoral Fellow & 3 D.Sc. (Post Doctorate) students. He has delivered many expert talks/lectures on various topics of research (in TEQIP also) and contributed as resource person in many workshops/seminars especially in NAAC/ NBA/ICAR/NIRF/QS Star accreditation process throughout the country.
Prof. Yadav also worked as an advisor in some other universities/institutions like Dr. K.N. Modi University Jaipur, AMET (Deemed) University Chennai and Calcutta Business School Calcutta. He taught international students of Yesbud University Lusaka Zambia and Two Colleges of Technology, Oman. He was the Hon. Advisor in UP and UK Govt. Seed Corporations. He is the editorial board member for several national and international journals. He has also worked in various committees at senior level like NAAC/AICTE/BCI/ICAR as Chairperson, Coordinator and Member of team.
Prof. Yadav has been associated with MSME/ DST/ Industry related funded projects. He has received 11 patents & copyrights. He worked in many Industrial Consultancy Projects as PI and attended several refresher courses. He is a lifetime member of Computer Society of India, Indian Commerce Association India, Institute of Scholars, and member in some other International societies like IEEE. His research areas are Computer Networks, Software Engineering, Sensor Networks and Data Mining, Strategic Management Leadership, to name a few. Prof. Yadav has been honored as Chair Professor, Best Director NCR, Life Time Research Achievement Award, Emeritus Excellence Award, International Scientist Award 2020 on Engineering, Science, Medicine, Most Influential Vice Chancellor Award, etc. along with Member in BOS/Executive Council of several universities.