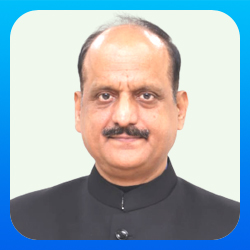 Prof. Lalit Kumar Awasthi
Prof. Lalit Kumar Awasthi, is presently Professor and Director at Dr. B. R. Ambedkar National Institute of Technology, Jalandhar since 10th October 2016 and is on deputation from National Institute of Technology, Hamirpur where he is serving as Professor, Computer Science and Engineering Department.
He has been working as Director at various technical institutions since July 2012. While working as Director at NIT Jalandhar, Professor Awasthi had additional charge of Director NIT Delhi for about four months during which he enhanced the pace of construction and now he is also having additional charge of Director, National Institute of Technology, Hamirpur from August 14th, 2020.
His academic career spans for more than three decades in which he is involved in teaching-learning, laboratory development, infrastructure development, research and administration. He is the main architect of Computer Science and Engineering Department at National Institute of Technology, Hamirpur where he joined as founder faculty in August 1988. He had established the first computing facility at NIT Hamirpur.
During his tenure as Head of Department at Computer Science and Engineering department the department could get a new building and all new laboratories were established. He also served as Head of Computer Centre and attributed in establishment of Voice and Data integrated network at NIT Hamirpur in 2002-03.
As Head of CSE Department, he could initiate the process of starting M. Tech. programme in Computer Science and Engineering and also in Mobile Computing. Also, he proposed to start another M Tech programme in Cloud Computing at CSE department NIT Hamirpur.
Prof. Awasthi also served as Dean (Students and Alumni) at the institute and initiated the process of having strong Alumni base of NIT Hamirpur. Many chapters were opened in most of the metro cities in India and even in abroad to strengthen the alumni base of the institute.
He was entrusted with responsibility of establishing a new Government Engineering College, now known as Atal Bihari Vajpayee Govt. Institute of Engineering and Technology, Pragtinagar, INDIA by Govt. of Himachal Pradesh. Now, the institute is an AICTE approved technical institution of Himachal Pradesh Govt. and initially it was established with grant in aid of Rs. 15 Crores from Satluj Jal Vidut Nigam Limited, Shimla, India. Professor Awasthi has finalized the master plan of the campus and established the institution with its infrastructure for about four years. While at Pragtinagar he was having charge of Director of J N Govt. Engineering College, Sundernagar (HP) for almost two years. For a small period, he also served as Founder Director of Mahatma Gandhi Govt. Engineering College, Jeori, Rampur, Shimla, Himachal.
Professor Lalit K Awasthi also served as Dean of Academics at HP Technical University Hamirpur where he was instrumental in finalization of curriculum of various BTech and MTech courses, process of affiliation and finalization of the ordinances of the University.
He joined NITJ in October 2016 and initiated many reforms in academics, research, Teaching, recruitment, Internationalization of institute, MoU with International and National Institutes and Alumni interactions which led to 52nd rank in NIRF ranking in 2020 out of 12000 + institutions.
Professor Awasthi has excellent international exposure as he has visited University of California Berkley, USA, Stanford University, USA, University of Newcastle upon Tyne UK, University of Technology Sydney, Australia, University of Melbourne, Australia, University of Missouri Kansas USA and University of Florence Italy.