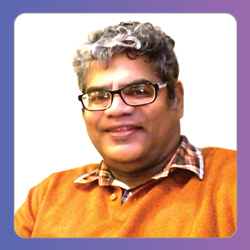 Pradeep Nair, PhD
Dean, School of Journalism, Mass Communication
& New Media and Director Research, Central University of
Himachal Pradesh, Dharamshala, India
Pradeep Nair is presently working as Professor of New Media and Dean of the School of Journalism, Mass Communication and New Media. He is Director Research of the University. His research and teaching is in the fields of critical communication theories, new media in shaping public opinion and behaviour in the context of state-society nexus, media in democratization movements, the discrete roles that news and information play in a political system, the causes of press freedom – its role in erosion of state control, press in authoritarian regimes, the process of democratization and health governance. His research interests focus on pedagogical approaches of media education, media governance in transitional democracies, health communication and promotion. Publications in these fields includes exploring the potential benefits of media exposure on wellbeing within the disciplinary boundaries of media psychology, while looking at the Indian and Tibetan understanding of the wellbeing construct (Asia Pacific Media Educator, 2021), Framing of community dynamics by small town journalists in Dharamshala, India (Newspaper Research Journal, 2020), Journalism Education in Post-Truth Era (Journalism and Mass Communication Educator, 2019), Identity Crisis versus Ethical Dilemmas of Small Town Journalism (Journalism Education, 2018), Contextualizing Fake News in Post-truth Era (Asia Pacific Media Educator, 2017), Democracy for a Territoryless and Stateless Polity (International Political Science Abstracts, 2016), the difficulty in Teaching Political Journalism to Students Who Want to Be Advocates (Asia Pacific Media Educator, 2015).
He is the Associate Editor of Connected Health a speciality section of Frontiers in Digital Health and Associate Editor of Political Communication section of Frontiers in Communication and is the Editor of a research section on Health Technologies and Innovations to effectively respond to the Covid-19 Pandemic. The section deals with cutting- 2 edge academic research and industry-scale manufacturing and production of healthcare innovations to deal with the challenges posed by the pandemic. He is currently in the Editorial Board of Asia Pacific Media Educator (SAGE) and had served two successive terms in the editorial board of Pedagogy in Health Promotion (SOPHE & SAGE). He has been awarded Top Peer Reviewer in Social Sciences by Web of Science and Clarivate Analytics in 2019 and is currently reviewing for British Medical Journal, WHO Health Bulletin, Health and Technology, Pedagogy in Health Promotion, Asian Ethnicity and Frontiers in Public Health. Prof. Nair supervises doctoral students undertaking research on participatory democracy and governance in developing economies, media governance processes, digital disinformation and health communication and promotion.