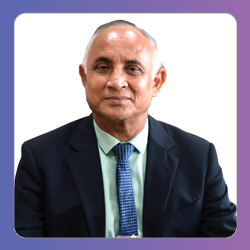 Dr. Ranendra N Saha; Acting Vice Chancellor and Senior Professor, BITS Pilani
Dr. Ranendra Narayan Saha is Senior Professor of Pharmacy and Acting Vice chancellor of BITS Pilani, an "Institute of Eminence", declared by Ministry of Education, Govt of India. He is serving BITS Pilani for last 35 years in various capacities and involved in teaching, research and administration. Before being appointed Director of BITS Pilani Dubai Campus, he was Dean of Faculty; Deputy Director (Administration) of BITS Pilani, Pilani Campus, Deputy Director (Research and Educational Development) of BITS Pilani (university) and was driving research agenda for all 4 campuses of BITS Pilani during 2010-2014. He studied Pharmacy in Jadavpur University, Kolkata.
In 2011 he has been awarded Shri B. K. Birla and Shrimati Sarala Birla Chair Professorship at BITS Pilani for his contributions in teaching and research. In 2013, he received "Pharmacy Professional of the Year" Award given by Indian Association of Pharmaceutical Scientists and Technologists for his contributions in Pharmacy field.  He is also the recipient of "The Best Pharmacy Teacher Award" for the year 2005, awarded by Association of Pharmaceutical Teachers of India (APTI), in recognition of his contribution in teaching and research in the field of Pharmacy.
He has successfully completed many projects funded by different industries and govt funding agencies. He has transferred 7 product technologies to Pharma industries. He has some patents in his credit. One controlled release product designed by Dr. Saha has been granted Indian Patent and commercialized and launched to Indian market by Ipca Laboratories limited, Mumbai by the name Zerodol CR and Movon CR. Presently he has projects sponsored by Pharmaceutical companies.
He has already guided 26 doctoral students and is currently supervising 5 doctoral candidates. He has guided more than 100 M.Pharm Dissertation Projects. He has published more than 125 papers in reputed international, national journals and more than 100 papers have been presented in international and national Conferences/ Seminars/ Symposiums and delivered invited lectures at conferences, symposiums.
He has visited USA, Canada, UK, Sweden, China, Syria, Nepal and other countries on invitation from universities, Industries and associations to deliver lectures. He has organized several national and international conferences. He organized one International Symposium on Advances in Drug Delivery Systems at Damascus, Syria on invitation from Arab Societies of Science and Technology (ASST), Syria. He is/was on advisory board and selection committee member of number of Universities in India and abroad. Prof Saha also spoke at or acted as panelist in various programs.
He is also member scientific associations/societies like Association of Pharmaceutical Teachers of India; Indian Pharmaceutical Association; India; ISTE; Controlled Release Society Inc., USA; American Association of Pharmaceutical Scientists (AAPS), USA; American Chemical Society, USA; Controlled Release Society, Indian Chapter.