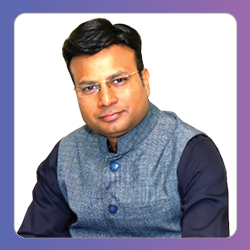 Sachin Gupta
Youngest first generation Chancellor of any University
 Sh. Sachin Gupta's journey of two decades in the higher education sector started when the Delhi Government initiated and permitted entry of private sector in higher education. He has been very passionate about providing higher education in general and to make it affordable to rural youth in particular. Due to his passion only, he set up an educational Institute in Mathura which was considered as ideal place to fulfil his dream of serving the aspiring students belonging to middle class and lower middle class. It is appropriate to say that his success is unprecedented in terms of influencing the quality and system of higher education in the private sector. With power of his vision, clarity of his mission and analytical ability, the university under his leadership is already a very sought after place for higher studies.
It sets him apart and clearly shows his passion for education. His motto is providing holistic education to the students so that they achieve "excellence in life".
  Youngest Chancellor Award by Her Excellency Smt. Pratibha Patil, Former President of the Country and Sri Sri Ravi Shankarji is a testimony of the recognition bestowed upon him. Besides this coveted award, many other awards have been conferred on him such as Bharat Gaurav Samman, Bharat Vidya Shiromani, Young Edupreneur, Youngest Chancellor Award etc.
 Ensuring holistic development of students to make them skilled is very close to his heart. A visionary and a selfless leader with exceptional interpersonal, social and administrative skills is an appropriate description of Sh. Sachin Gupta. Due to his motivation and his focus on research and outcome based education, the students and the faculty have succeeded in getting more than 1500 research papers published and about 375 patents filed till 2020.He was aptly, honoured with Bharat Gaurav Samman in USA, besides a recognition award by Dr. A. P.J. Abdul Kalam.
 He is a philanthropic by heart and deeds as he is constantly looking for helping the needy. His belief made him open a charitable school for the differently able children as well as running a charitable hospital ( Ayurvedic). He truly gives back to the society as would be evident from the following initiatives:
a) Launched Chapter of "What Can I Give"
b)Running a Charitable Ayurvedic Hospital in Mathura.
c)Running a Charitable School for providing totally free education to Divyang Children.
d)An active Rotarian spearheading various socially relevant initiatives in the field of health, hygiene and education.
e) Holding camps in the nearby villages for free health checkup
f) Assisting financially startups promoted by students
The list is only illustrative and not exhaustive.
 A few of the initiatives like setting up of a Business Incubator as also "Centre of Excellence" in collaboration with MSME, setting up labs with latest equipments exhibit his futurist outlook of teaching and learning. Collaboration with Shantigiri for managing  Ayurvedic Hospital for providing the best treatment to Brajwasis as also the best practical study for BAMS students show his strong belief in Indian Medicine system. His selfless service to the education in general and needy students in particular is his way of serving the mankind. May God bless him with all the mental and physical strength to continue with his mission?
.