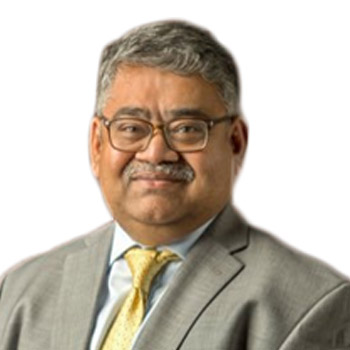 An international educator for over twenty-four years, Abhimanyu Basu is the Dean of Academics at the Dhirubhai Ambani International School. His experience in the IB world includes being a Teacher, Senior Examiner, Workshop Leader and Presenter at Conferences. In addition, he is also a Consultant and Team Visit Leader for new IB Schools and is a member of Visiting Accreditation Teams for CIS and NEASC to accredit international schools globally. A trainer in classroom pedagogy and leadership, he has presented at international forums such as the International Baccalaureate Global Conference, Global Round Square Conference (Canada) , Cambridge Conference (India), TAISI to name a few. He has served as an Honorary Committee Member of the Friends of Round Square, South East Asia and the Gulf Region and is also currently serving on the Advisory Committee at IC3.
As Dean of Academics, Abhimanyu will focus on the planning, design and implementation of the new school project, developing the academic managing systems, policies, and processes bringing in new perspectives and approaches in the international school landscape. Along with this he will introduce innovative programmes and practices for the holistic development of students, put in place inclusive educational systems, implement global best practices in teaching and learning, enhance student and teacher exchange programmes, build a vibrant professional learning community, network with leading educational institutions across the world, and review quality assurance, accreditation and benchmarking initiatives.
A Microsoft Innovative Educator and Adobe Education Leader, he has lead the schools rapid transition on to a virtual learning environment last March on the MS teams platform within a span of two weeks with remote training of 3500 stakeholders. He believes in the role of technology as an enabler to optimize instruction and student outcomes; in order embed 21st century skills such as creativity, critical thinking, communication, and collaboration in the learning process. This will help prepare students for a world that is increasingly dependent on technology and the cutting age of instructional technology should be platform agnostic where one can draw on the best of Microsoft, Adobe, Google and Apple has to offer.
Abhimanyu holds a Master's in International Education from the Van Loan School at Endicott College in Beverly, Massachusetts, as well as a Masters in Physiology with specialization in Biochemistry and Molecular Biology from Calcutta University.