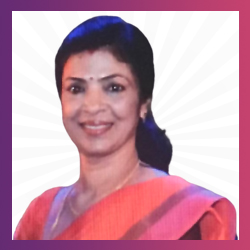 Dr. Sulochana Rajulu Started her Career as PGT physics at Army Public School Bangalore straight after completing her Masters in Physics followed by Bachelor in Education.
Has also completed her Masters in Educational Management .
By virtue of being Married to an Army Officer , she had the opportunity to teach in schools across the Country . Has an illustrious innings of 30 years of teaching experience in leading schools.
She has worked as an educationist in different capacities , to name a few- HOD, senior school Coordinator, Vice Principal, Officiating Principal and Principal.
Has been a Resource person for various training programs . Has been invited to host workshops held by NCERT. Has been a member of the advisory Committee of various schools.
Has been a panelist and a speaker at various educational forums.
Currently, she is serving as the Senior School Principal of The Amaatra Academy,a leading K 12 International School , part of the prestigious PES group of Institutions in Bangalore.
As the Founder Principal of the School , in a span of Ten years , has steered the school to great heights befitting the banner of PES group of Institutions.