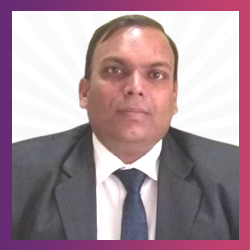 Mr. Francis Fernandes is an educationist with over 13 years of experience in the education sector. He has been leading schools affiliated to the C.B.S.E. for five years. He has served as Vice Principal, Academic Supervisor, Curriculum Manager, Activity Coordinator and English teacher before being elevated as a Principal. He has worked in Haryana, Punjab, Uttar Pradesh, Bihar and now, Gujarat in India and was also employed in Dubai.
He was awarded the Outstanding Principal at the International School Awards by Times of India at Chandigarh on May 24, 2019; the Outstanding Principal by TUI Media, Delhi on May 17, 2019, on among the 100 Highly Effective Principals of India by AKS Awards, New Delhi on 23rd January, 2019, World 100 in Education at Future of Learning Unconference, Bengaluru on 9th January, 2019, as an Outstanding School Leader by Global Triumph Foundation on August 4, 2018 at Bengaluru, and Progressive Principal of India by ReThink India Foundation on November 9, 2017. He was honoured by the Times of India on 11th December 2017 as the Youngest Principal of India at Indian School Awards. LeaderSpeak Magazine chose to award him for his Outstanding Leadership in Education at the Global Education Summit at New Delhi in August 2017.
He was a panelist for Global Education Summit 2016 and 2017 where he spoke on the need for Teacher-Training and the importance of Technology in Education respectively. He was also invited by Adobe Inc. and Ed Tech Review in September 2018 to speak on evolving Curriculum spaces, the learning environment, pedagogy and curriculum innovation. At the Eldrok Conference in January 2019, he spoke on Use of Interactive Learning Tools and Digital Contents in Transforming School Education.. At the Global Education Summit by Tech Observer in May 2019, he spoke on Curriculum to develop innovation and creativity. He has completed his training as Master Trainer by CBSE. He also delivers workshops for schools from time to time
He has been involved in curriculum development from the early stages in his teaching career and has formed benchmarks for learning that he says, have helped his students master English, his core subject. He has successfully introduced Thematic Curriculum in the schools under his leadership and has helped teachers make their teaching learner centric and simple. In a short span, he has created a niche for himself in the Ed-Leaders community, often engaging in meaningful dialogue with his fellow Principals and industry leaders.
He is a Master of English Literature, M.B.A. in Education Management and holds a Bachelor degree in Education.