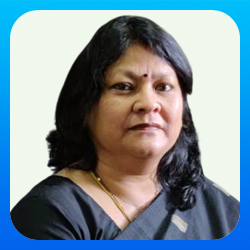 I have been an inspiring leader and educationist for more than two decades for both CAIE and CBSE, who believes in imparting quality and meaningful education to prepare students for their life. I have been a practitioner of CAIE curriculum since 2000 for middle school and IGCSE that has broadened the horizon of education to the global level.
I started my career as a science facilitator and soon got an opportunity to administer the school as Vice Principal .I have worked in Delhi, Uttaranchal and Hyderabad for CBSE and International school. It has been a great journey so far and feel privileged and blessed to be part of grooming the young minds. I worked as a content writer for Science for Oxford Publication for a short duration of 2 years. I found that being with children is much more creative experience than creating knowledge by writing.
I like conducting various teachers' workshops & seminars. I provide challenging & innovative teaching/learning environments that empower the teachers for academic excellence. I believe in creating an environment for learning not only for the students but also for the teachers incorporating the 21st century skills.
I have been instrumental in driving the CAIE practices in all the International schools I have been associated with. I am a certified practitioner from Cambridge who has qualified CICTL with distinction. I have been awarded as the outstanding leader for IDS 2020-23 by British Council. I work with my team with a mission of self-belief and make them accountable for their higher performance through empowerment of knowledge. Guiding and motivating the team to create a greener, cleaner and healthier environment around themselves is my mantra that connects me with nature.