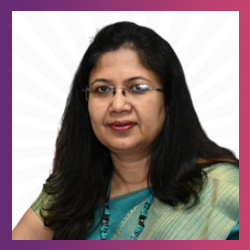 Dr. Saleema Chaudhary
Equipped with strong leadership skills, excellence and wisdom, Dr. Saleema Chaudhary is someone who believes in ideals and constantly strives to achieve them. With a double post graduate degree in Botany and Psychotherapy & counseling along with a Ph.D in Psychotherapy and counselling, she blazes a trail of luminous accomplishments. Dr.Saleema holds a key position in the academic community and has been the Principal of ICSE, CBSE and PUC college.
With an impeccable service record spanning 27 years in the field of school education, Dr Saleema Chaudhary has been successfully delivering positive results.
She enjoys Management by walking around approach and fosters a collaborative school culture by inspiring students, teachers and staff to be problem solvers and to stay self-motivated.
A visionary par excellence, Dr. Saleema has acquired a rich gamut of experience as she moved from TGT Biology KV -Krishnanagar, WB to Academic Coordinator/VP at CES, Kolkata to Principal at Nightingale school & PUC college, Bangalore to Srichaitanya Techno School Bangalore,to General Manager Academic Development and LDQ at Kalorex , Ahmedabad, Founder Principal at Sri Chaitanya Techno School ,Kolkata to Principal at Cosmos Castle International School Green Campus, Ahmedabad, culminating her journey as a successful head of these schools.
Dr Saleema Chaudhary has to her credit awards of distinguished principal from IIHM Kolkata, TOI in association withNirma University, Ahmedabad , Dr APJ Abdul Kalam Award,Sri Krishna Educare, Ahmedabad.