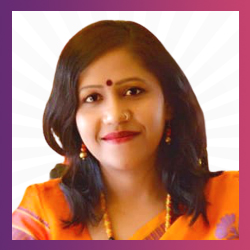 Mrs. Vaishali Parikh is a visionary, leader with love of life and passion for commitment to excellence in education. With a profound 17 years of experience in multiple roles as Educator, Administrator and founder Principal of Anand Niketan Bhadaj Campus, Ahmedabad.
As an educator, she has been instrumental in revamping Curriculum planning and transaction, reviewing and building the continuous and comprehensive evaluation, building a strong in house continuous professional development for teachers, performance management systems, streamlining recruitment procedures, thematic learning in primary, Introducing Reading Programs for all grades, policy building within the school, coordinating various school functions and publications. She believes in sustainable leadership and strives to build a professional leaming community with all stakeholders.
She has an expertise in conducting workshops for students and teachers. She has been a keynote speaker at various regional summits and conférences like world education summit -2017-18.